Value-Added Manufacturing Funding Announced for NovaPet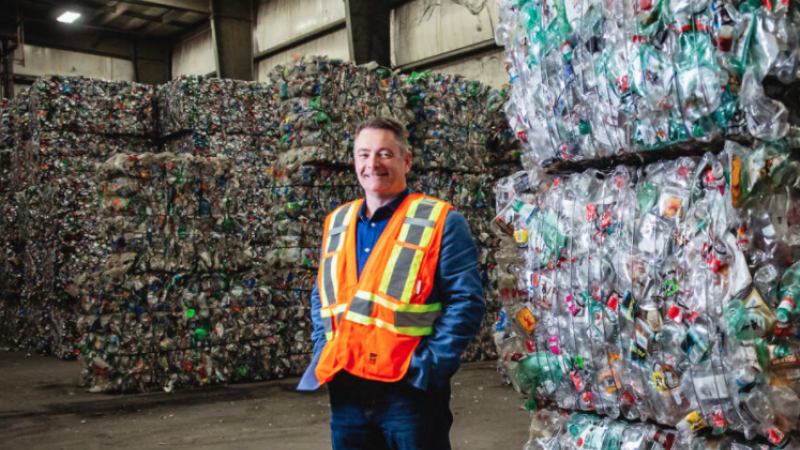 In March 2021, Divert NS provided $238,000 in funding to Novapet Inc. to upgrade their second recycling processing line. This funding was provided through our Value-Added Manufacturing fund. Investing in waste diversion companies and infrastructure, such as Novapet, is critical in maintaining and improving our culture of recycling in Nova Scotia.
Novapet is a plastics processing facility located in Amherst. Novapet processes both polyethylene terephthalate (PET) and high density polyethylene (HDPE). PET is clear, strong, lightweight plastic that is used for packaging foods and beverages, especially for soft drinks, juices and water. Novapet processes more than 5,400 tonnes of recycled PET annually, with the majority feeding UltrePET, its parent company. UltrePET turns the recycled plastic back into new bottles, a process approved by the Food and Drug Administration. Novapet also sells PET and HDPE (High Density Polyethylene) to other Canadian and US markets. All plastic beverage containers returned for refund in Nova Scotia are processed by Novapet.
The funding will be used to purchase new equipment that will help automate processing activities at Novapet, resulting in increased efficiency. A new pit-and-feed system, including wide conveyors will allow plastic bottles to move more quickly through the processing line. A new optical sorter will allow plastic bottles to be sorted more quickly and accurately. The funding Divert NS has provided will increase line throughput at Novapet by up to 50%, preserve and/or improve the quality of finished products, and improve Novapet's competitive cost position.