Funding Innovation: Reducing Plastic at the Pump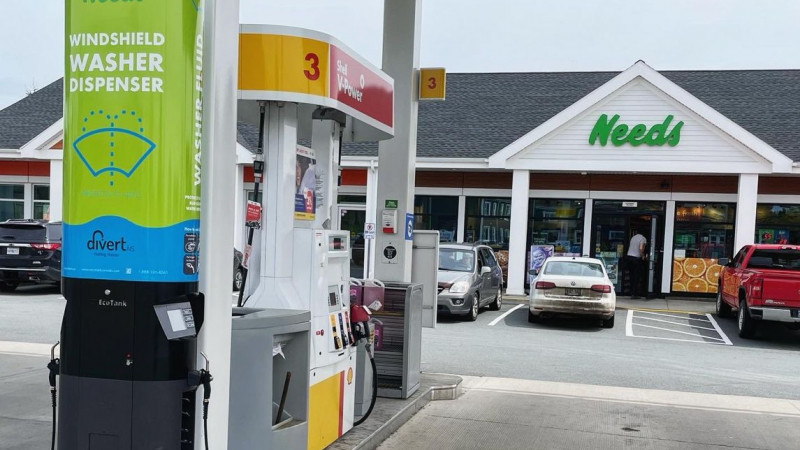 Divert NS has partnered with EcoTank Canada to bring an innovative windshield washer fluid dispenser system to gas stations in Nova Scotia. By eliminating the plastic packaging created by washer fluid jugs, EcoTank Canada serves to bring convenience to the consumer in how they refill their washer fluid while reducing Nova Scotia's plastic waste footprint.
Upon witnessing the success of EcoTank in over 14 European countries, Canadian founders, Jordon Francis and Robbie Mair, introduced the innovative system within Canada and with the help of Divert NS' Research & Development funding program, have piloted over 37 washer fluid dispenser units at 15 stations within the Halifax Regional Municipality this summer.
EcoTank is user-friendly and simple to use. Motorists can fill up their washer fluid tank at the same time they fuel up. An EcoTank unit can hold 230 liters of fluid, which is equivalent to 60 four-liter windshield fluid containers. Due to the contamination the methanol causes to the plastic containers, they become expensive to clean and recycle and often end up in the province's landfills. The pilot in Nova Scotia aims to show that EcoTank will not just reduce this specific category of plastic waste but also eliminate it. At full potential, EcoTank could reduce over 1.2 million jugs disposed of every year in Nova Scotia.
The Eco Tank Nova Scotian locations are as follows:
Needs by Sobeys: 31-33 Cow Bay Rd, Eastern Passage 
Needs by Sobeys: 1220 Hammonds Plains Road, Hammonds Plains
Needs by Sobeys: 5 Ruth Gold Bloom Ave, Halifax
Needs by Sobeys: 20 Damascus Drive, Bedford
Needs by Sobeys: 975 Wilkinson Ave, Dartmouth
Needs by Sobeys: 3160 Hwy #2, Fall River
Needs by Sobeys: 89 Peakview Way, Halifax
Needs by Sobeys: 180 Prospect Rd, Goodwood
Irving: 6757 Hwy 2, Exit 7 Enfield
Irving: 229 Countryview Dr, Dartmouth
Irving: 15 Fairfax Dr, Halifax
Irving: 5210 St Margaret's Bay Rd, Upper Tantallon
Irving: 30 Gary Martin Dr, Bedford
Irving: 599 Prospect Rd, Goodwood
Irving: 280 Lacewood Dr, Halifax