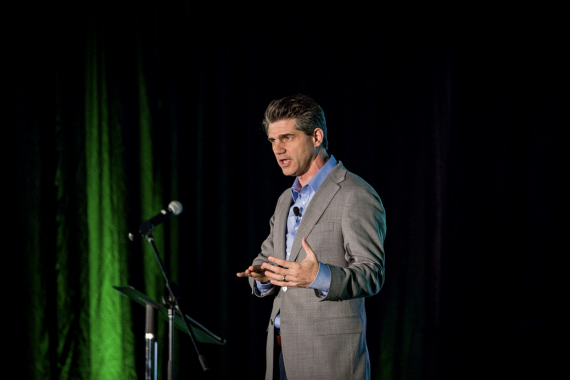 Divert NS hosted the 20th annual Mobius Awards of Environmental Excellence on October 25, 2018 at the Halifax Seaport Farmers' Market. The event featured Joshua Becker as keynote speaker. The following seven winners took home the 2018 Mobius Awards of Environmental Excellence.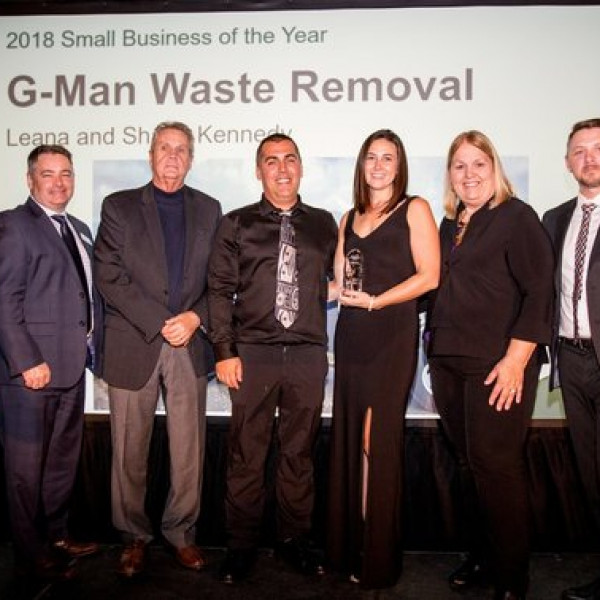 Small Business of The Year
G-Man Waste Removal
SPONSORED BY
Efficiency NS
In their community of Millbrook First Nation, Shane and Leana Kennedy were frustrated by seeing how underused the curbside collection program was, and by the massive amounts of garbage overflowing fro
...
m the local drop-off bins. They came up with a solution: their business, G-Man Waste Removal, would help clean up the community and educate their neighbours on proper waste diversion. At the core of their business is exceptional customer service. This service, in collaboration with their partners at the Mi'kmawey Green Communities Program, provides one-on-one education and assistance to the nearly 400 households in the community of Millbrook and its satellite communities in Sheet Harbour and Cole Harbour. And they have had a huge impact in their first year of business. The community is cleaner, residents care more, and G-Man has more than doubled the number of customer containers than they anticipated in their first year of business. G-Man keeps community members in the loop by writing articles in their monthly newsletter, delivering door-to-door notices, and constantly keeping everyone informed via weekly online collection reminders. Their efforts have not gone unnoticed. G-Man has been called on to perform waste audits for seven First Nation Communities across Nova Scotia to develop a baseline on diversion programs and offer recommendations for improvement.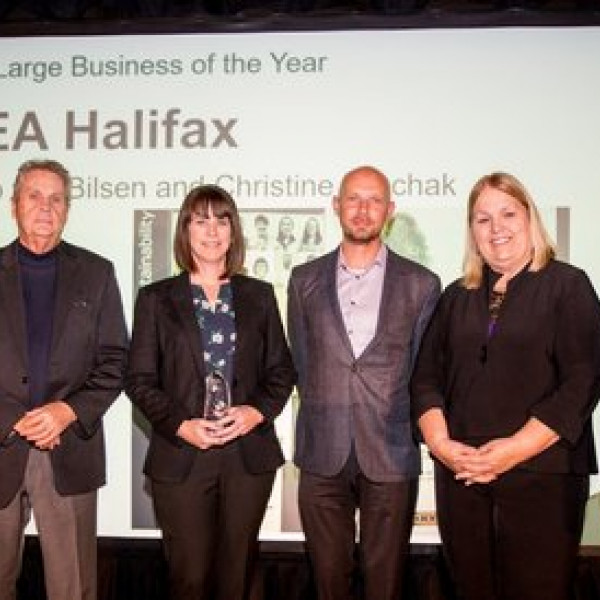 Large Business of The Year
Ikea Halifax
SPONSORED BY
Scotia Recycling Ltd.
Currently with a waste diversion rate of 85% in Canada, IKEA's target is 90% by 2020 for all stores world-wide. The new Halifax store is an outstanding example of how this international corporation en
...
sures proper waste diversion locally. Clearly labelled paper, organics, and blue bag recycling bins throughout the showrooms, restaurant, and staff rooms ensure customers and staff are able to source separate their waste. To ensure proper management of the cardboard and film plastic, the IKEA Halifax store has three cardboard compactors, and a bailer for film plastic. This ensures proper processing on-site before the waste goes to the municipal system. They also a take back program for mattresses, which they ship to Montreal for responsible recycling, and an e-waste recycling program with a 98% diversion rate! For organics, IKEA Halifax has their own on-site food waste management system that liquefies their fruit and vegetable waste through aerobic digestion. They also purchase materials from subcontractors who use upcycled materials for the production of retail items.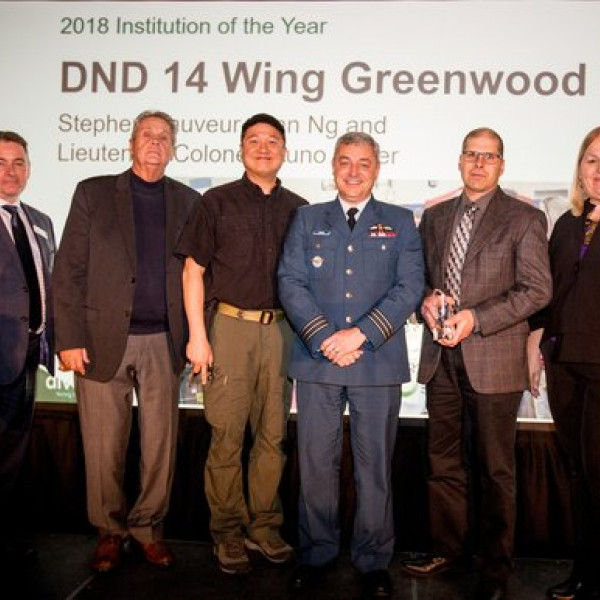 Institution of The Year
Department of National Defence, 14 Wing Greenwood
14 Wing Greenwood is the largest air base on the East Coast with about 2,800 employees and approximately 800 buildings and Housing Units. There are hundreds of sorting stations throughout the operatio
...
n side of the base, and personnel are required to use them. Two sections at 14 Wing Greenwood spearheaded the activities that led to this nomination – 14 Wing Environment and Real Property Operations, but, ultimately everyone on the base plays a role in the recycling and sustainability programs. Since September last year, over 70 tonnes of recyclables and organics have been diverted from landfill, and over 90 tonnes of metal, wood, and brick have been kept out of the landfill. The wood, metal, and brick are all the more impressive, because none of these materials are banned from landfill. Close to 30 of those tonnes are wood, which could have gone to a construction and demolition site and been buried – but instead they are destined for electricity generation. All told, 14 Wing diverted more than 165 tonnes of material in the last year.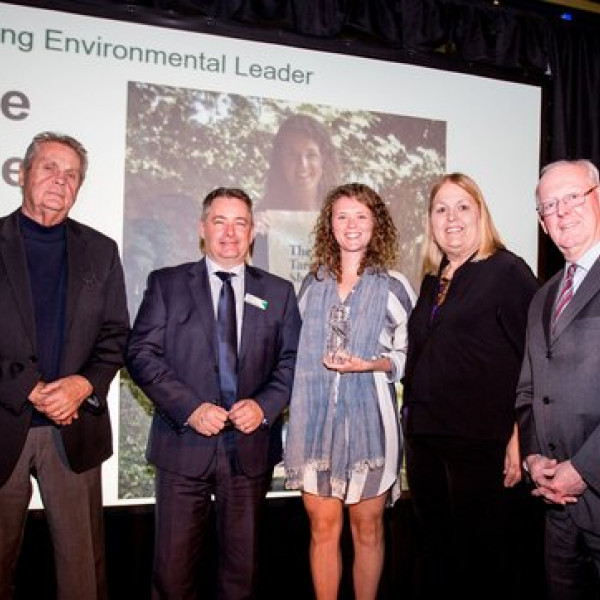 Emerging Environmental Leader
Kate Pepler
SPONSORED BY
EPRA - Nova Scotia
Kate is a zero-waste champion. She started and runs OurPositivePlanet.com, a website that shares environmental success stories, and founded a zero-waste coffee shop, bulk store, and community space ca
...
lled The Tare Shop in the north end of Halifax—a first of its kind in our province. Kate brought this unique concept to the forefront. Many people talked about doing something like this for a long time, but Kate put the idea into action and has generated a lot off buzz and excitement in the process. Not only does Kate talk about a zero-waste lifestyle, she lives it. Starting with every day, small steps, she began using reusable bags to grocery shop, picking up garbage, refusing plastic straws with drinks, and buying products without packaging. Now, Kate carries a zero-waste kit to ensure she's always prepared: with reusable cutlery, a water bottle, thermos, mason jar, a container and reusable cotton bags. Kate embraces the zero-waste culture, sharing her vision with the community through workshops and lectures. She provides education to help customers reduce their personal waste and invest in a sustainable lifestyle.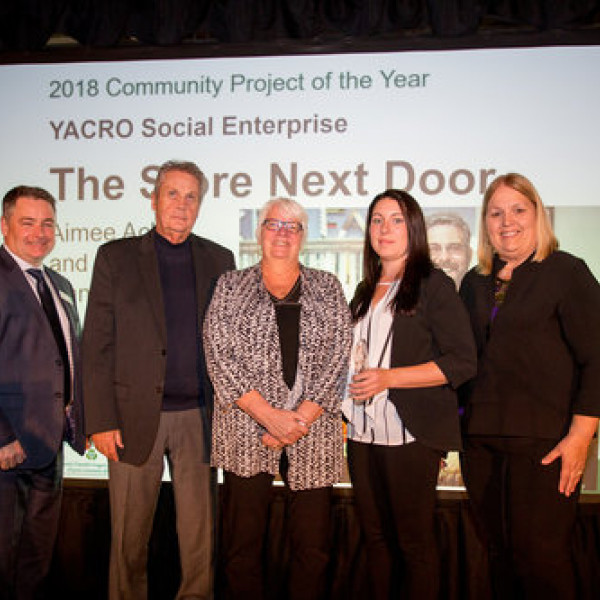 Community Project of The Year
Yacro Social Enterprise, The Store Next Door
SPONSORED BY
Novapet
This year's Community Project of the Year started as a recycling initiative for old hockey sticks, originally destined for the landfill, to produce furniture and other products for sale. YACRO Social
...
Enterprise, The Store Next Door in Yarmouth started their project in 2017 and it took off—it is currently their most successful project yet. So far, they have collaborated with three Canadian companies to secure a steady supply of sticks, and local hockey parents and the Junior A hockey teams have also come on board. Their story went viral and sticks have been coming in from across Canada and the US—even from NHL teams! This unique concept has had a real impact. It is educating and creating jobs in the community. The initiative to reuse a material that has no other use, started with a headboard that sold before it was even built, and expanded to a product line with over 35 items. They also produce custom pieces and incorporate their customer's personal sticks to create keepsakes. To date, they have diverted over 16,000 hockey sticks from landfill.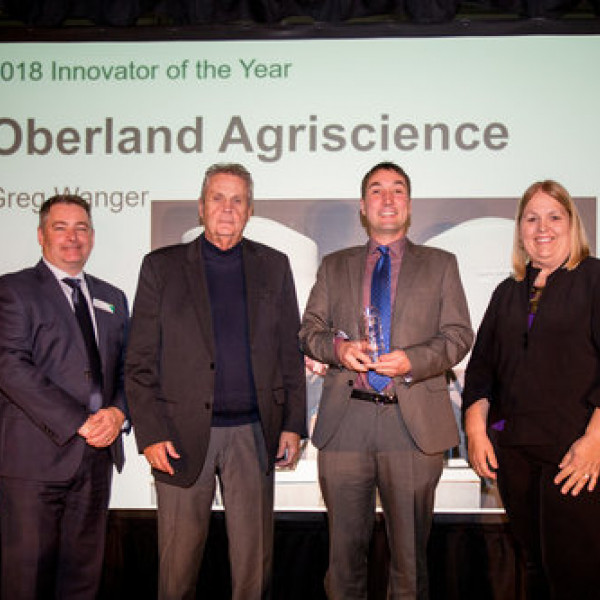 Innovator of The Year
Oberland Agriscience
Oberland Agriscience is a Nova Scotian start-up company that upcycles organic waste into high value protein products. Oberland uses a novel waste stabilization process that transforms organic waste in
...
to a nutritious insect feed. With a two-process operation, Oberland addresses both the increasing organic waste burden, and the growing protein shortage within the Atlantic region. Oberland diverts organics from breweries, cafes, and agriculture sources. Once processed, the organic waste becomes a long-term stable food source for the voracious black soldier fly larvae. The larvae in turn become a nutrient-rich, highly sought-after, high quality protein ingredient for pet food, aquaculture and agriculture feed. Atlantic Canada's organics supply is intermittent and influenced by seasonal shifts. To overcome this, Oberland developed a proprietary methodology to stabilize organics for long-term storage without the use of chemical additives or refrigeration. This allows them to silo large volumes of processed waste when supply is plentiful, and have ongoing feed stock throughout the year. Oberland is also striving to become a zero-waste facility. The organic waste processing does not generate a leachate, and uses minimal water. The small volume of material remaining after larvae rearing has been tested and it is classified as a Class A compost. So, rather than dispose of leftover material into the waste stream, Oberland will collect the material and sell it as a soil amendment.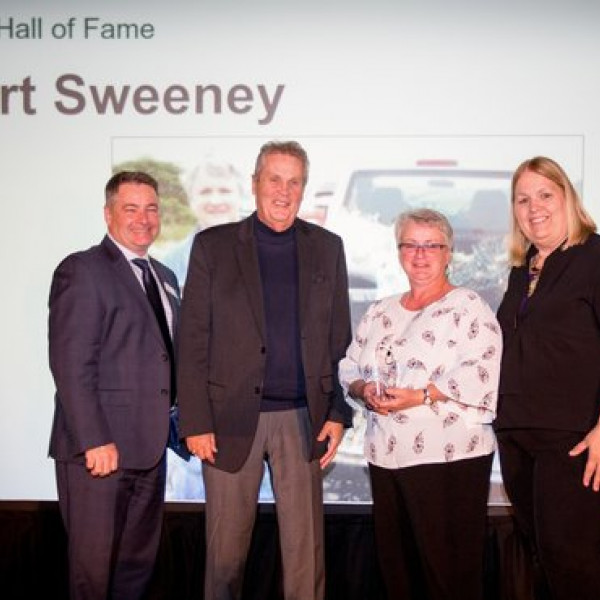 Hall of Fame
Gert Sweeney
Many people fondly know her as one of the "Litter Ladies of Cape Forchu." In the region, there is no one that can match the passion and commitment that Gert Sweeney has shown towards waste reduction o
...
ver the years. Gert started cleaning up in her neighbourhood in 1995, picking up about 10 or more grocery bags of litter each week and hasn't stopped since. She gained the respect of the businesses that work around the harbour and convinced them that they needed to clean up their area as well. She also supported the Ship to Shore Program, with her husband, Stewart, designing and using the first of the boat bins that were created for the program - all with input from Gert. These bins encourage fishermen to sort their waste and bring it back to shore, rather than dump it in the ocean Over the years, Gert has organized regular clean ups, putting notices in local mailboxes. She even analyzes the data, can relate what they are finding on the beach to changes being made on the boats and has used the information to make further improvements. She and her group also participate in the Adopt-A-Highway program, and when she saw no other highways were adopted in her area, she was instrumental in getting another group to sign up. In 2017, Gert and the litter ladies picked up over 500 bags of litter over an 11 km stretch of highway. They also clean the beach in the area, and this year are at 500 bags and counting! They pick up rain or shine, all year round. Gert shows no signs of slowing down. When asked what drives her to keep cleaning, she says: "It's my backyard, my family is playing on that beach and it's my livelihood. My hope is that everyone will take a grocery bag in their pocket and clean up. As long as I can walk, I'll still be doing this."