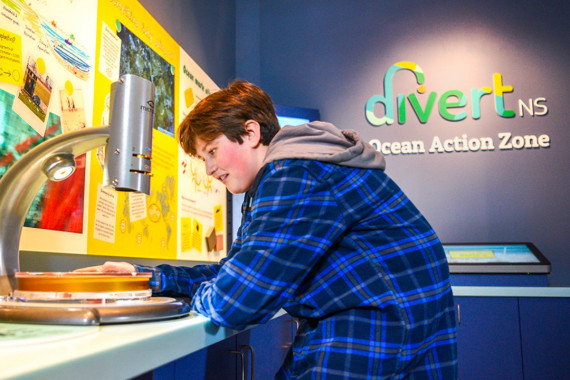 Doing Your Part
Caring for the environment and keeping the ocean clean is an ongoing commitment. Learn more about how your actions can help stop harmful plastics from reaching the ocean. Pledge below to make a difference in your community. If you've taken a pledge before, why not try another challenge? Or inspire your friends to do the same? 
About the Exhibit 
The Divert NS Ocean Action Zone (OAZ) at the Discovery Centre aims to inspire youth to take action by reducing waste that could end up in our oceans. With the look and feel of a working research lab, the OAZ is an interactive exhibit that educates and empowers. Visitors start by exploring samples of waste found during a local shoreline clean-up to understand the impact of trash once it enters the ocean. Next, they take a deeper dive into the story of plastic in our oceans, learning how it gets there, its long lifespan, and its impact on us and aquatic life. 
Plan your visit to the Discovery Centre today, or take a pledge at home.