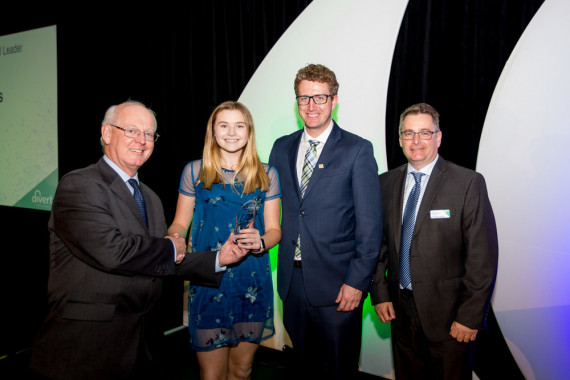 Divert NS hosted the 19th annual Mobius Awards of Environmental Excellence on October 24, 2017 at the Halifax Harbourfront Marriott. The event featured Adam Minter as keynote speaker. The following seven winners took home the 2017 Mobius Awards of Environmental Excellence.
Small Business of The Year
Truro Veterinary Hospital
SPONSORED BY
Efficiency NS
In addition to looking after over 4,000 furry friends every year, the Truro Vet Hospital has made a strong commitment to reducing their impact on the environment. One of these initiatives includes an
...
extensive recycling and composting program. They have also decreased their energy usage through a complete overhaul of their lighting systems by installing programmable thermostats, and energy-efficient appliances. They created reusable laminated forms to replace paper questionnaires and appointment notes, that are then transferred into digital files. They email information and links to their clients instead of printing paper copies, and non-confidential paper gets reused as scrap paper and kennel cards. When IV bags are empty, they are cut and turned into booties for their client's paws to help keep them protected when going outside after certain procedures. The Truro Veterinary Hospital dedicates their time to saving our pets, and also our environment. They are a great example of leadership in the community and how every initiative makes a great impact on the environment and those around them.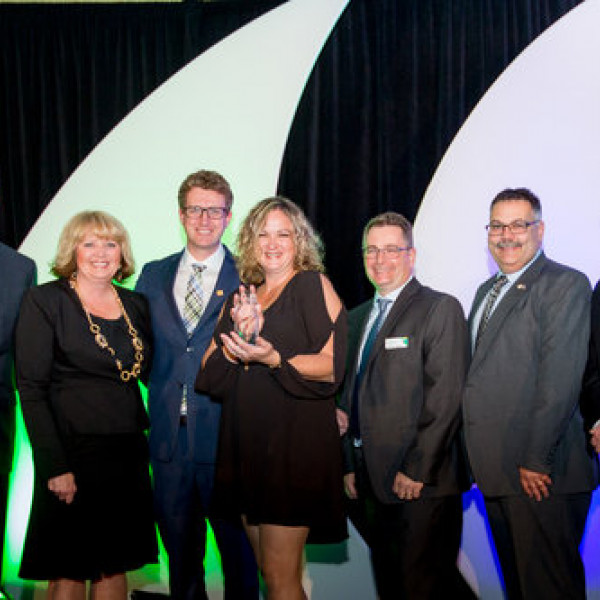 Large Business of The Year
Marine Atlantic Inc.
SPONSORED BY
Scotia Recycling Ltd.
Over 950,000 passengers travel on Marine Atlantic vessels in a three-year span. As you can imagine, that adds up to a lot of waste! A corporate-wide waste audit was performed during the development of
...
the corporation's Waste Management Program and Strategy to identify what needed to be done to reduce Marine Atlantic's environmental footprint. The result was a program designed to ensure every aspect of the corporation is able to divert their waste appropriately and responsibly. Each department is responsible for implementing containers, bins, and signage across the corporation – in TWO provinces, including vessels, dock areas, workspaces, and terminals. To ensure the program is being adopted throughout the company, weekly inspections are carried out to make sure all areas are working together for a cleaner workplace and environment. And to make their work even more remarkable, it spans two provinces with different waste sorting regulations. The results are outstanding!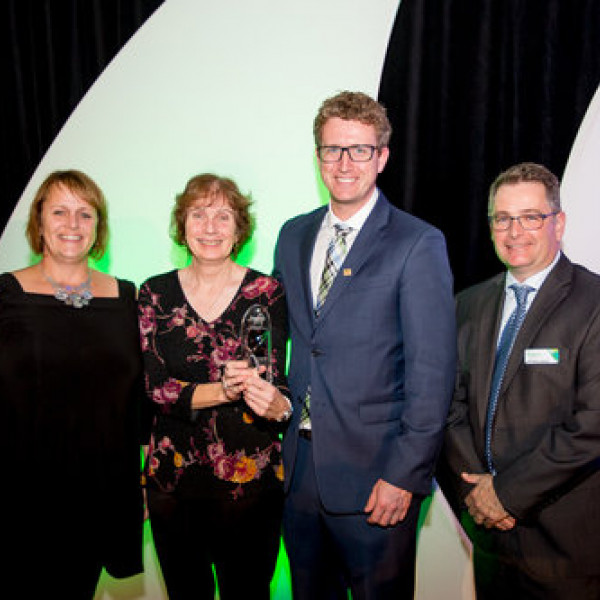 Institution of The Year
Bridge Adult Service
SPONSORED BY
Novapet Inc.
Birdge Adult Service Centre recognizes the potential in every single person, as well as our province's environment. They train and provide opportunities to adults with intellectual disabilities to all
...
ow them to reach their fullest potential. Operating many services, The Bridge uses the money they receive from selling their products to support wages, day trips, and activities. Through generous donations, The Bridge also operates a used clothing store. With donations that cannot be re-sold, imagination and innovation is used to turn these products into valuable items—this is where we see waste diversion at its best.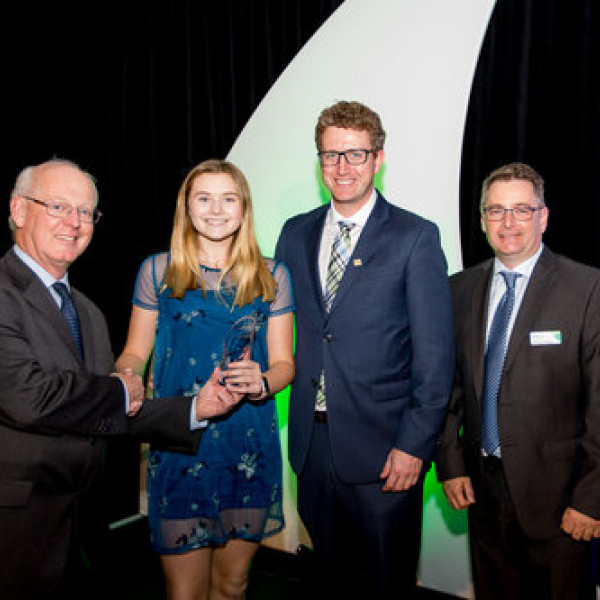 Emerging Environmental Leader
Stella Bowles
SPONSORED BY
EPRA - Nova Scotia
13-year-old Stella Bowles has shown extraordinary commitment to our province, her community and the beautiful LaHave River. Stella realized that many of her neighbours didn't have septic tanks and tha
...
t pipes from their homes were carrying sewage directly into the LaHave River. With her determination, she brought attention to a long-term issue and created a campaign to have the straight pipes removed. Using the power of social media, Stella began the campaign online and brought public and media attention to this serious issue. Her work garnered political attention, which brought funding to address the issue. Because of Stella's hard work, three levels of government have now committed over 15 million dollars to address the issue.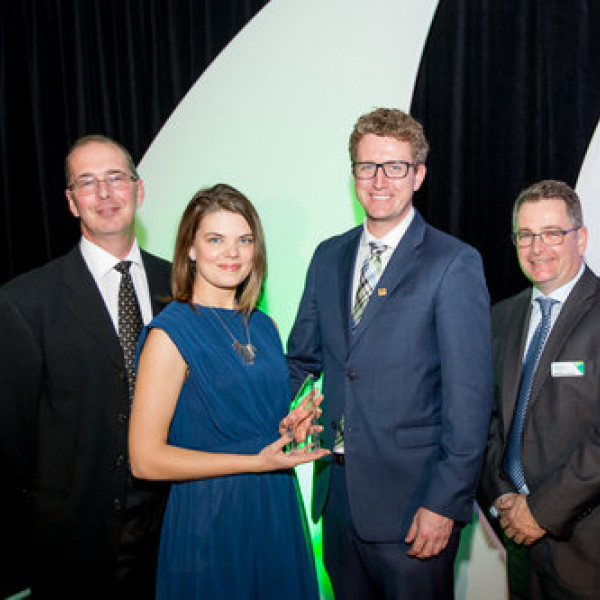 Community Project of The Year
Halifax Tool Library
SPONSORED BY
Walmart
The Halifax Tool Library allows its members to borrow specialized tools for home repair, maintenance, building projects, community projects, and many other building needs. Instead of every home in the
...
city having a toolshed of unused tools collecting dust, Halifax Tool Library removes the barriers so that people who live in apartment buildings, students, and low-income residents can have access to the tools they need to work on any project they choose. Halifax Tool Library repairs and maintains tools to keep them in-use and out of landfills. Many of the tools in their inventory have been donated—giving them a second life.
Innovator of The Year
Agseed Technologies (Canada) Inc.
SPONSORED BY
Innovacorp
Environmental stewardship can start in the workplace, in the community, or in this case, in the family. What began as a family business in 2012 has grown over the last five years to become a successfu
...
l waste-to-value company that focuses on developing high-value solid surface building products. AgSeed thrives on the challenge of taking problematic waste material and turning it into a beautiful product that is also environmentally responsible. They have taken an extremely innovative approach to develop biomaterials made from various waste feedstocks, enabling the diversion of these waste materials from landfills. One of their impressive innovations: turning waste coffee grounds into gorgeous countertops!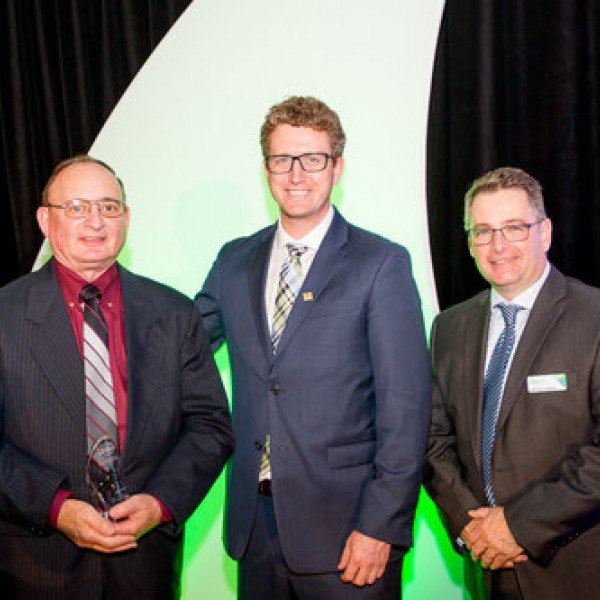 Hall of Fame
David Harris
David Harris is a true pioneer and visionary in the Nova Scotian recycling industry. He was the proud winner of the first Solid Waste Resource Award for waste management education in 1998 and later be
...
came the recipient of the RRFB Nova Scotia Innovation in Waste Management award in 2001—and he hasn't stopped since! He instituted the first education program in his region and he operated the first successful material recycling facility in Yarmouth. He's been involved in local Enviro-Depots, has built and operated his region's Compost Facility, is a municipal residential hauler, and operates a roll off container company. David continuously strives to educate the community through presentations and exhibitions from school aged children to senior citizens. David continues to propel environmental efforts and works tirelessly towards bettering our beautiful province.